Fall 2017 Celebratory Fun Run Presented By Delta
November 19th, 2017 at Belle Isle State Park
Join us as we run or walk (skip, dance, or cartwheel) the Fall 2017 Girls on the Run and STRIDE Celebratory Fun Run! Read on to get all the important info so that you're ready for the big day, Sunday, November 19th. Note that the GOTR/STRIDE celebratory run is a closed running event for program participants, their coaches and families. 
Please be sure to check back here for updates!
11/14/2017- Due to a water main break the bridge to Belle Isle may be under construction. Follow detour signs into the park. 
Thank you to our Premier Sponsor: Delta

Registration
CLICK HERE to register today!  As a reminder, all registered participants in GOTR, HS, and STRIDE as well as registered coaches are already registered for the event.
Hundreds of volunteers are needed to make this event successful, CLICK HERE to register and be VOLUNTARILY AWESOME!
Pricing
Monday September 18th- Saturday October 21st $25
October 22nd-November 12th- $35
November 13th- November 19th – $45
Unlock limitless potential by being a 5k Superhero. Your donation of $100 will gain you free entry into the 5k, an awesome cape, and you will sponsor a child to cross the finish line in the Spring 2018 season! Simply choose "5k Superhero" in the registration. All donations are tax deductible.
We are excited to announce that the finisher's gift at the 5k will be a neck gaiter! All GOTR, Heart and Sole, and STRIDE participants will receive a medal at their last practice. 
Packet Pick-Up
Packet Pick-Up will take place at the South Oakland YMCA, 1016 W Eleven Mile Road, Royal Oak, MI 48067 during the following times:
Thursday November 16th,  12-8pm
Friday November 17th,  12pm-6pm
Saturday November 18th, 9am-2pm
There will also be event-day Packet Pick-Up at Belle Isle State Park starting at 9 AM.
GOTR and STRIDE participants will receive their bibs and event shirts at practice. 
Directions & Parking
The Fall 2017 GOTR and STRIDE Celebratory Fun Run will be held on Belle Isle State Park, East Jefferson and East Grand Boulevard, Detroit, MI 48207.
Parking
There is plenty of parking on site at Belle Isle. Watch for the event volunteers, who will guide you to the proper parking area.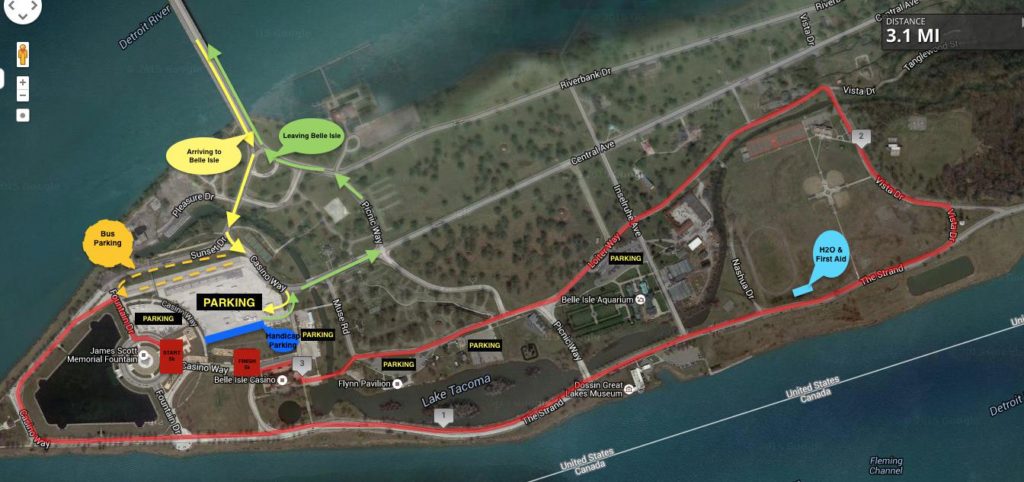 Recreation Passport (Parking Pass)
As a Department of Natural Resources property, Belle Isle State Park requires a State of Michigan Recreation Passport for entry. What is a Recreation Passport? When Michigan residents check YES for the Recreation Passport when renewing a Michigan license plate with the Secretary of State, they gain access to more than 100 state parks, hundreds of miles of pathways, and much more. Learn more about these sites at www.michigan.gov/recsearch. In addition, buying a Recreation Passport means saying YES to protecting Michigan's natural resources for future generations and to supporting recreation opportunities in municipal parks and trails through a grant program funded by your Recreation Passport purchase.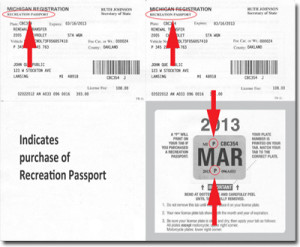 If you did not purchase a Recreation Passport upon renewing your license plates, you will need to purchase one for $11. You can bring your registration to a Secretary of State branch office at any time to pay the $11 and receive a replacement license-plate tab with two small P's, indicating that you purchased the Recreation Passport. You can also purchase a window sticker for $11 at a state park or via the online Customer Service Center. The sticker should be placed on the inside lower- right side of the passenger window. The Recreation Passport is valid until your next vehicle-plate renewal date. The park rangers will have in-state and out-of-state permits available for purchase. If, for some reason, you park your car without a permit, you will receive what appears to be a ticket on your car. It is not a ticket; it is a notice. Please take the notice to the entry gate and pay the daily or annual fee. Please direct any questions to the DNR.
Purchase your State Park Pass, CLICK HERE
-Passes can be picked up at Packet pick up prior to the event or the day of the event.
Event Area Map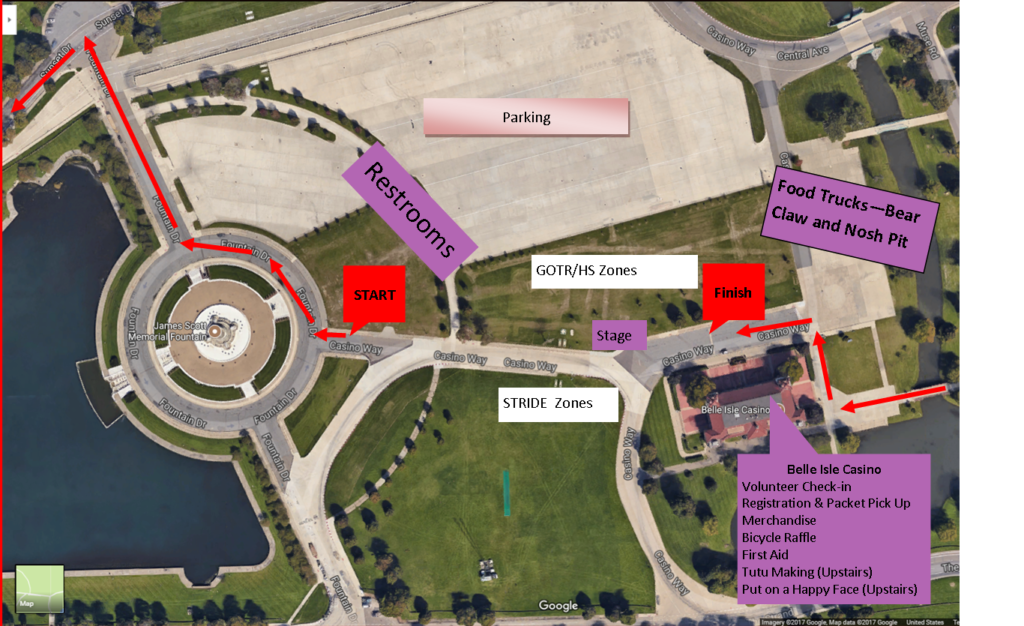 Event Schedule
9:00 AM — Packet Pick-Up and Event-Day Registration open; the bridge to Belle Isle will back up, so give yourself ample time to arrive.
9:00 AM – Celebration Station is open (Tutu Making and Warrior Paint)
9:45 AM –Day of Registration Closes
10:00 AM — STRIDE Run starts
10:10 AM — Heart and Sole Run starts
10:15 AM — Girls on the Run Run starts
12:30 PM — Event closes
Run Details
Running Bibs: You will receive a running bib with your individual number. The running bib must be worn on your FRONT during the run to identify you to our course marshals as a  participant. Your running bib must be clearly visible on the outside of your clothing during the run.
Bib Quick Tips:
Running bib is clearly visible on the FRONT during the run

Running bib is pinned in all four corners (or secured to a race belt, if you have one)

Running bib is worn on the outside of your clothing and is not covered (by jackets, shirts, etc.)
Aid and Facilities
An aid station will be located at approximately mile 1.5. Water and First Aid will be available there. There will also be Port-o-Potties set up near the start line and at the aid station. 
The main first aid table will be inside the casino, Safety volunteers can be identified by their red YMCA hats. Lost children should go to the First Aid  table located inside the casino.
Loved Ones on the Run
Parents, relatives, and caregivers are very welcome to run the 5K with their children. However, they need to be officially registered for the event and they must run in the same zone as their child.
For Safety and Security…
Please, no earbuds, headphones, and musical devices will be permitted on the course. No dogs are allowed on the course. Thank you for your cooperation!
The main first aid table will be inside the casino, safety volunteers can be identified by their red YMCA hats. Lost children should go to the First Aid  table located inside the casino.
Thank You Sponsors
Thank You to our Emerald Sponsor Precor

Thank you to our Gold Sponsors: Beaumont Health |  Tivity Health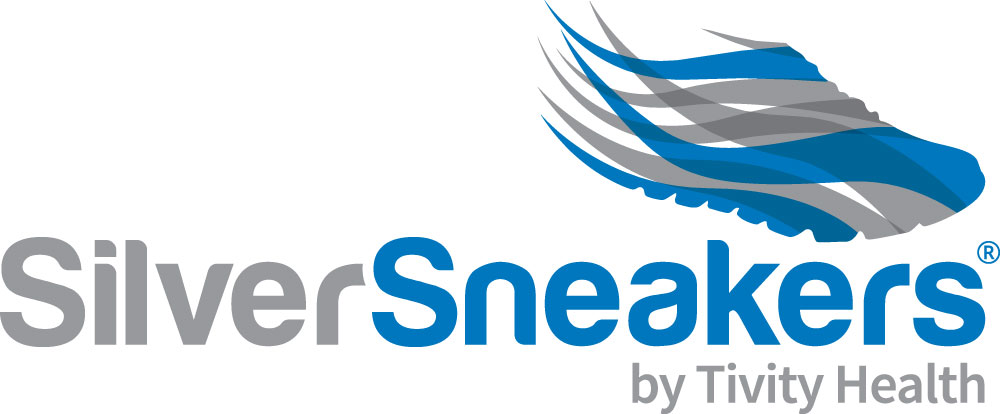 Thank you to our Bronze Sponsor DMF Bait and Tackle