Run for a reason–Join our team
Lace up your shoes, let's run, walk, or volunteer, to help girls in metro Detroit unlock their limitless potential. Whether you're training for a triathlon, your tenth marathon or your first 5k, dedicate your effort to
Girls on the Run by becoming a #SoleMate! Having your friends and family support your training with a
donation will provide the extra motivation you need to keep working towards your goal!  Team members are asked to raise a minimum of $500 to support girls in the Detroit community.
Here's How
This portion of our website is currently under revision.  We appreciate your patience as we work to update our SoleMates information for 2018!  Have an immediate question? Email: sbutler@ymcadetroit.org
In the meantime, please Fill out our SoleMates interest form: CLICK HERE
Keep In Touch!
Connect with fellow SoleMates on Facebook : CLICK HERE
Additional Resources for Fundraising: coming soon
2018 Calendar
Why we RUN: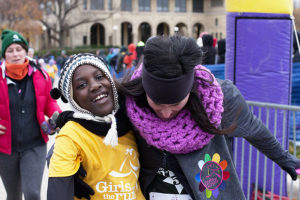 25% of girls in Wayne, Oakland, and Macomb counties could not participate in GOTR without the Scholarship they receive. Last spring over 160 girls received brand new running shoes to participate with confidence, and 16 buses transported low income families to the 5k event. SoleMates run for a reason:  so all  girls can unlock their limitless potential and boldly pursue their dreams.
Team Apparel
All SoleMates that reach their $500 fundraising goal will receive a team technical jersey. We also have official team  Jackets available for $40 CLICK HERE.
Meet your SoleMate Captains
We are your hosts/cheerleaders/spirit guides, Jackie & Stacey, a little bit about us:

Stacey –   "I have been a GOTR coach for 9 seasons. In a past life I was a stay at home mom and freelance artist. I enjoy spending time with my family and my horse.  I have a PASSION for running, I've run multiple marathons including 5 consecutive Boston Marathons and I'm SO excited to train with you as I run my 17th marathon this year! I'll be helping you with a training plan!"
Jackie – "HI! I'll be running my first marathon this 
October with you! I have no idea what I'm 'running' into and I have a lot of questions for Stacey about this gig. I'm really excited about the finishers medal and plan on wearing it to work for a while after the race. I'll be training and fundraising right along with the team. Together we're going to fuel the potential in ALL girls and I am super excited to see the impact our team has on the community!"
Contact for more info
For more information about joining SoleMates for GOTR of Greater Detroit, please contact Jackie Kippen, Girls on the Run Executive Director at jkippen@ymcadetroit.org or Stacey Butler, Community Engagement Manager at sbutler@ymcadetroit.org