Run for a reason–Join our team
Lace up your shoes, let's run, walk, or volunteer, to help girls in metro Detroit unlock their limitless potential. Join Team Girls on the Run in The 2017 Detroit Free Press/Chemical Bank Marathon on October 13th – 15th, 2017. There are several race options in Detroit, so whether you're up for a half-marathon, a team relay or you're gonna tackle the 26.2…we invite you to run with us!
Here's How
Choose Your Event (Full, Half, Relay)
Go to www.freepmarathon.com
Click on "Registration"
Choose your event
In the "Participant Information" section, select "YMCA of Metro Detroit (Girls on the Run)" in the charity field
In the 'event merchandise' section, do not donate to Girls on the Run here. You'll want to do that in your crowdrise page (Confusing, we know!)
In the payment section, enter one of the  promotion codes to receive a reduced registration rate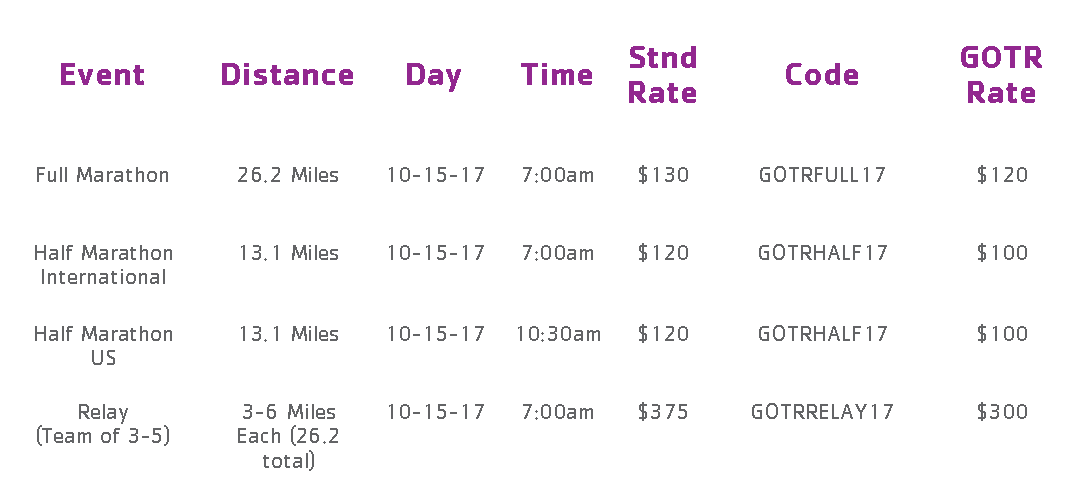 Our runners will have resources available including YMCA trainers, Massage Therapist, Shoe Experts, and personal cheerleaders! Not only will we have group runs, but weekly newsletters packed with info, monthly seminars, and a lot of fun!
Already Registered? That's OK, reach out to sbutler@ymcadetroit.org and we can help you get on the team!
Keep In Touch!
Join our Email Group: CLICK HERE 
Connect with your team on Facebook : CLICK HERE
Team Information Packet: CLICK HERE
Additional Resources for Fundraising: CLICK HERE
Calendar of Runs and Seminars
 Group Run Routes
Training Plans can be found at halhigdon.com or in the team packet above.
Team members are encouraged to run the mileage of their choice based on their training plan. Each week we will have 3, 6 and 9 mile route options. Small maps will be handed out before the run.  All paces are welcome — runners, walkers, walk-joggers — come on out!
Marathon of Giving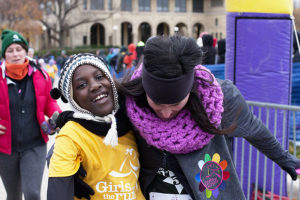 25% of girls in Wayne, Oakland, and Macomb counties could not particpate in GOTR without the Scholarship they receive. This spring over 160 girls recived brand new running shoes to particpate with confidence, and 16 buses transported low income families to the 5k event. Our team runs for a reason, that reason is so all  girls can unlock their limitless potential and boldly pursue their dreams.
Team members are asked to raise a minimum of $500 to support girls in the Detroit community. Successful Crowdfunding campaigns are short and engaging. Our teams "Marathon of Giving" will begin September 18th (26 days prior to the marathon date) and end on Race day ( October 15th). View the Team Packet for more information and guidance on fundraising.
Team Apparel
All registered team members will receive a Jersey. This will be mailed to you or you can pick it up at a group run. We also have official team  Jackets available for $40 CLICK HERE.
Meet your Team Captains
We are your hosts/cheerleaders/spirit guides, Jackie & Stacey, a little bit about us:

Stacey  (right) –   "I have been a GOTR coach for 8 seasons. In a past life I was a stay at home mom and freelance artist. I enjoy spending time with my family and my horse.  I have a PASSION for running, I've run multiple marathons including 5 consecutive Boston Marathons and I'm SO excited to train with you as I run my 15th Marathon this October! I'll be helping you with a training plan!"
Jackie – "HI! I'll be running my first marathon this 
October with you! I have no idea what I'm 'running' into and I have a lot of questions for Stacey about this gig. I'm really excited about the finishers medal, it's the 40th Detroit Marathon so I'm hoping it's awesome because I plan on wearing it to work for a while after the race. I'll be training and fundraising right along with the team. Together we're going to fuel the potential in ALL girls and I am super excited to see the impact our team has on the community!"
As you can see we are both really excited to work with you and look forward to seeing you at the kick off party!!
Contact for more info
For more information about joining The GOTR Team, please contact Jackie Kippen, Girls on the Run Executive Director at jkippen@ymcadetroit.org or Stacey Butler, Community Engagement Manager at sbutler@ymcadetroit.org